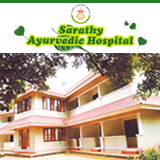 Departments
General Ayurveda and Panchakarma
Features and Facilities
Pre and post natal care Obesity Chronic skin and respiratory allergies Nervous disorders Insomnia Headaches De addiction therapy
New treatments for female health problems Preventive and curative treatments for vision disorders Spine disorders
About Us
The Sarathy Ayurvedic Hospital was established in 2004 by Dr P K Lathika an accomplished Ayurvedic physician with a rich and varied experience
spanning 16 years. Sarathy offers curative as well as general health therapies for a wide range of ailments. We Specialize in spine disorders and
female health problems.